Senior honor student faces challenges, achieves success
Hang on for a minute...we're trying to find some more stories you might like.
Senior Jaidyn Lewis is in NHS, a member of Anchor Club, Health Science Club, Student Council and is currently ranked number six in her class, but she is different, she is also a mom.
Teen mothers face the difficult challenge of trying to balance the lifestyle of a mother and the dedication of being a student. It seems impossible to do both, but Lewis finds a way to do it.
"I thought my life was over, but I pushed through," Lewis said. "I felt embarrassed and like I couldn't celebrate, but I had my family and a few good friends hat made it a little easier."
Giving birth to her son was hard to do, but the moment that Lewis laid eyes on her newborn son, she knew he was worth it.
"I fell in love with him the second I saw him. I felt relieved and happy and like my life was suddenly complete," Lewis said.
Many people doubted Lewis when she was pregnant so young, but she beat the odds. She used Nathan as her motivation to continue to go to school and work hard doing so.
"I knew I was smart and I wanted to be at the top of my class since I was a little girl," Lewis said. "Nathan just encouraged me to not give up."
Throughout high school, Lewis' teachers have watched her succeed and continue to work hard.
"She was a hardworking student in dance who was always a leader within her group," Dance Technique Teacher Christie Carter said. "In Anchor Club, I can always count on her to be where she committed to volunteer and be a leader when she gets there. She is a quiet leader, but when she has something to say people listen."
Lewis currently serves as NHS Secretary. Carter said she can see why.
"I have a lot of good things to say about her as a student and leader," Carter said. "Probably more than the paper can hold."
Anatomy teacher Ben Wheatman met Lewis in August at Meet the Teacher. She brought Nathan to meet her teachers, and he was impressed with her.
"She is by far one of the best students I've ever had," Wheatman said.
It wasn't always easy for Lewis to continue school while balancing being a new mom.
"I wanted to give up at school multiple times because I wanted to be home with my baby," Lewis said. "But he was my motivation, so I kept pushing to get to where I am now. We do homework together now so he can learn numbers while I get stuff done."
With graduation coming up, Lewis has already figured out her college plans. Lewis will be attending The University of Texas in Tyler to major in Nursing. She has already been accepted in their pre-nursing program.
"Go Patriots!" Lewis said. "I'm excited that I got accepted into this amazing school."
After college, Lewis wants to find a stable job, buy a house, and support Nathan in whatever he chooses to do.
"I want to give him the best life that I possibly can," Lewis said. "
Jaidyn's friends feel proud of her. She is not a statistic.
"I would say as a student that Jaidyn always works hard and goes the extra mile to keep her grades at the very top, even when there are a million things going on," senior Jordan Blanks said.
Though Lewis was a young mother, she has given insightful opinions on how to juggle being a student and a mother.
"Your baby is the most important thing in the world. Let that baby be your motivation to finish school," Lewis said. "Take care of yourself. Being a mom is exhausting. It is okay to need a break or to need some help. My family has been supportive and by my side every step of the way."
There is a stigma when it comes to teen mothers and teen pregnancy whether our society denies it or not. Lewis faced this situation, but proved to everyone that she was able to continue school while raising her son.
"Everyone makes mistakes, but that mistake gave me the greatest blessing," Lewis said. "Nathan is the sweetest, goofiest, most handsome little boy. He tells me everyday that he loves me to the stars and gives me the best hugs. Maybe I was young, but that will never change the love I have for my baby boy. My age has nothing to do with what kind of mother I am or the kind of student I am."
About the Writer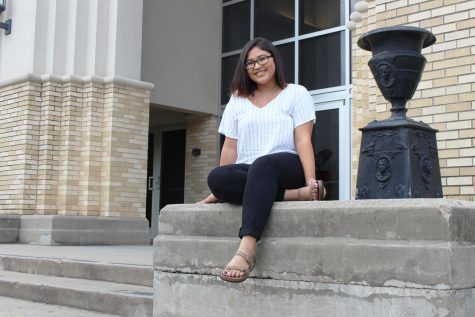 Emily Salazar, Managing and Design Editor
Emily Salazar is a senior, three year staffer and a two year editor for The Mirror. She serves as a section leader for the clarinets in the band. She is...