Students place at welding competition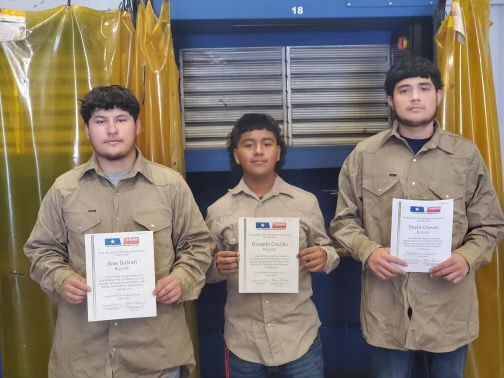 On September 29, CTE teacher Chris Smith took members of the KHS Welding department to attend the Texas High School Welding Series at the Texas Rice Festival in Winnie, Texas. Three out of the six students placed in the competition, and earned an AWS certification. These students are senior Daniel Galvan, junior David Chavez, and sophomore Osbaldo Castillo. 
"This certificate means hard work paying off," Galvan said. "At the end of the day I know I have this, and I am less stressed about my future."
Galvan placed 8th in Level 3, Chavez placed 9th in Level 4, and Castillo placed 6th in Level 4. They worked hard along with their instructors to accomplish this. 
"If it wasn't for my welding instructors, I wouldn't be where I am today," Galvan said. 
Some of these students want to pursue a career in welding, an upcoming field. 
"I want to go into working on the pipeline," Chavez said. "I want to go into it because my cousin's boyfriend was a welder, and he has a big truck."
Congratulations to all of the participants in the competition. We are proud of you!