The Style Show Experience
Kilgore High School has held their traditional Touch of Fame & Fashion Style & Talent Show for twenty-two years. However, this year is different, due to COVID-19. There have been changes in auditions, the location of the event, and ticket sales. The show will take place on February 27, 2021, at LeTourneau University's Belcher Center in Longview TX, at 7 p.m. The venue was supposed to be Kilgore College's Dodson Auditorium, but KC emailed and said they would not be hosting outside groups.
The ticket price will be $15 each, and they are available on the LeTourneau University Belcher Center website for participants and the students' families in the show right now. On Feb. 6 tickets will open to the public. None will be sold at Kilgore High School. All tickets must be purchased at BelcherCenter.com. The Belcher Center is following social distancing protocols and selling seats in sets of two. Students involved in the show will also be distanced on stage to keep them safe. Backstage, students and staff will wear masks and follow COVID protocols that are in effect at the time of the show.
 There are still three aspects of the show.  The Beauty and Handsome presentation is organized by each grade, 9th, 10th, 11th, and 12th graders who are elected by their classmates, talent acts are put on by individuals who audition, and Anchor Club members and Reflector staffers will model their personal style and outfits.
The style portion of the show is very different this year. To keep students safe and healthy, they will not be going for fittings as usual at local businesses to borrow outfits to wear. So many stores don't allow trying on clothes that organizers had to think of a way for the show to still happen.
Models were told they could purchase their own outfits to model. They were encouraged to support local.
"We love all the local businesses who usually let us borrow clothes," Amy Bates, co-sponsor of the event said. "But this year, we have to protect our students and staff from getting sick, so changes had to be made in how the style show is done. We can't ask students to go in and try on clothing on behalf of the show with all the COVID worries, so the staff had to think outside the box. Our first priority is that the kids in the show are safe. Our second priority is that events can go on, just maybe in a different way than we have always done them."
For many students, this is not their first time in the show. 
"I chose not to be in the Style Show in the past three years because I was nervous," senior Beauty Emma Taylor said. "However, I was chosen for Homecoming Princess this year and had a good time, so I thought I would have a good time with this, too."
A few may have experienced the Style Show by being known as a beauty, but will experience it this year in a new way.
"I have been a beauty every year," junior Abby Hattaway said."This is my first year being an [Hi-Stepper] Officer and I am excited to perform in Style Show in an officer dance, too."
Talent acts have not been made final but will be announced soon.
The Beauties, Handsomes, style show models and planners of the show are:
9th Grade:
Beauties – Bryonne Brooks, Lilly Brumble, Preslie Day, Mylia Dean, Catherine Dennis, Kenzi Eubanks, Jolee Herrin, Gabbi Johns, Journee Moore, Kaleigh Newlen, Maggie Quine, Constance Sifford, Sydney Starkey, Lillian Vowell, Breanna West. Handsomes- Fredy Aguilar, Jacob Caruthers, Derek Domorad, Zachary Dry, Cutter Gaudet, Cade Henry, Todd House, Sage Orange, Jayden Pyle, Kai Tucker, Emmanuel Young, Leandro Yzaguirre. 
10th Grade: Beauties – Olivia Blundell, Alice Cervantes, Khloe Davis, Liseli Fragozo, Kynlie Gillispie, Summer Hayden-Epps, Lesly Herrera, Ashtyn Lucas, Kylie Offerding, Jayci Pyle, Maddi Grace Riley, Samantha Rodriguez, Isabell Witt, Valeria Zuniga. Handsomes – William Andrew Adamez, Jaime Baldazo, Bryce Borders, Samuel Clements, Rylan Copeland, Dadrian Franklin, Isaac Gutierrez, Trenton Lopez, Kaiden Pierre, Josue Rosas, Yamir Sanchez, Jason Silvey, Maximiliano Torres, Matthew Tyeskie. 
11th Grade Beauties – Kayla Anthony, Tessa Audas, Cailey Brown, Laramie Cox, Hallie Gaudet, Abby Hattaway, Kailey Jones, Jaycee Pierce, Riley Thompson, Ashton Vallery, Averi Woods. Handsomes – Ryan Beddingfield, Tanner Bonnette, Caden Carnes, Ricardo Cedillo, Cason Cox, Thomas Donham, Javoria Easley, Thomas Hattaway, Corey Rider, Davin Rider, Jake Thompson. 
12th Grade: Beauties – Madison Alford, Brianna Alvarez, Alexis M. Anderson, Payton Berger, Hailey Espinoza, Jacqueline Estrella, Skyelar Howell, Chelsea Pierson, Emma Taylor, Maria Whitaker, and Carter Williams. Handsomes – Donovan Adkins, Adrian Alford, Tray Epps, Daniel Estrella, Ruben Estrella, Jaylon Guice, Bryce Long, Dalton McElyea, David Moreno, Cade Pippen, Kyle Wheeler, and Juan Vega. 
Anchor Club Members: Isabell Witt, Kayla Anthony, Addi Wood, Courtlyn Brown, Abby Hattaway, Riley Thompson, Kylie Offerding, Maddi Grace Riley, Carley McEntire, Estrella Martinez Alarcon, Jayci Pyle, Jaime Baldazo, Olivia Arp, Rachel Bowman, Payton Berger, Jonathan Whisenhunt, Avery LeBlanc, Katherine Shupe, Madison Weaver, and Averi Woods. 
Reflector Staffers: Olivia Arp, Ashaw Bailey, Jaime Baldazo, Olivia Blundell, Courtlyn Brown, Fallon Calloway, Shadestiny Chism, Cindy Contreras, Jimena Espinoza, Kynlie Gillispie, Sofia Gomez, Jaydn Griffin, Scotlyn Hampton, Halie Hanks, Martin Hernandez, Eryka Hopper, Skyelar Howell, Emily Jimenez, Kailey Jones, Kylee Lakey, Trent Lopez, Hylyn Lumpkins, Emily Martinez, Mariana Martinez, Madeline McCrory, Summer McGee, Kilee Menges, David Moreno, Alex Nabor, Dani Nunez, Jayci Pyle, Kayla Rios, Katherine Shupe, Jaiden Thompson, Zadie Vega, and Gracie Wheeler.
Co-Sponsors are Christie Carter and Amy Bates.
Make sure to buy your tickets! The show is sure to feature something you will enjoy!
About the Writer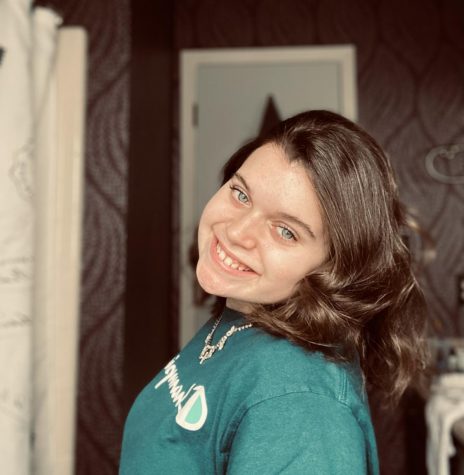 Layla Spalding, Staff Writer
Hey! I'm Layla Spalding, and I am a sophomore. This is my first year as a mirror staffer. I'm also in PASS and Choir through the school. In my free...