Top 3 Pumpkin Recipes To Try This Fall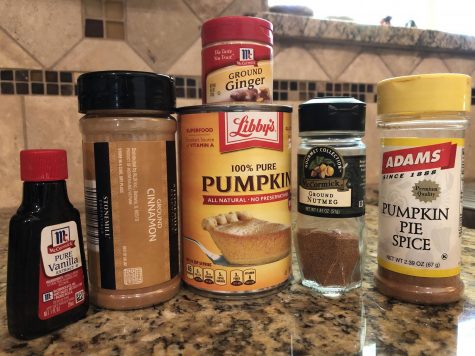 The fall season puts out so many delicious recipes. Pumpkin is a well-known fall staple, especially in the south. Cans of purée are flying off the shelves, and people are buying pumpkins like they're going out of style. With that being said, what pumpkin recipes are worth your time? After some experimenting and taste testing, a list has been determined. Here are the must-try recipes:
---
The first is an easy, simple recipe for coffee-lovers courtesy of recipegirl.com. It's for a homemade pumpkin spice latte.
Ingredients:
1/2 cup milk. (dairy alternatives work as well)
2 tablespoons pumpkin purée
1 teaspoon brown sugar
1 teaspoon vanilla extract
1/4 teaspoon pumpkin pie spice
1 cup of your desired strength of brewed coffee
2 tablespoons half and half cream
whipped cream and nutmeg for topping
Directions:
In a microwave safe bowl, whisk together the pumpkin, vanilla, brown sugar, spice, and milk. Microwave for 1-2 minutes until the milk mixture is hot and frothy. If a microwave is unavailable, you can also heat this mixture on the stove.
Pour the pumpkin milk into your favorite mug or glass. Add hot coffee. Add half and half cream. Add sugar, if desired, teaspoons at a time until it reaches your desired sweetness. Stir.
Optional, but recommended, top with whipped cream and nutmeg. Enjoy!
---
The next recipe is one for pumpkin pancakes. These make a perfect breakfast or brunch item. They are so good and a little addictive. You could buy the mix from the store, or you could make homemade version which is so much better and only takes a little longer. This recipe is courtesy of allrecipes.com. 
Ingredients:
1 1/2 cups milk
1 cup pumpkin purée
1 egg
2 tablespoons vegetable oil
2 tablespoons vinegar (I thought it sounded weird too, but trust the process)
2 cups all-purpose flour
3 tablespoons brown sugar
2 teaspoons baking powder
1 teaspoon baking soda
1 teaspoon allspice
1 teaspoon cinnamon
1/2 teaspoon ground ginger
1/2 teaspoon salt
Directions:
Mix together the milk, pumpkin, egg, oil, and vinegar. In a separate bowl, combine the flour, brown sugar, baking powder, baking soda, and spices together. Stir in the pumpkin mixture from before just enough to combine.
Heat a lightly oiled pan or griddle over medium heat. Pour onto the heated surface, using about a 1/4 cup of batter for each pancake. Brown both sides and serve hot with your desired toppings. Enjoy!
---
The last recipe is slightly advanced, but I can guarantee that anyone you make this pumpkin crisp for, they will be beyond impressed. Just a little tip for the dudes: I've never heard of a girl turning down a guy who bakes. Anyways, this recipe is courtesy of delish.com. 
Ingredients:
For the base:
3 eggs
1 cup granulated sugar
1 can pumpkin purée
2/3 cup heavy cream
2 teaspoons pumpkin pie spice
1 teaspoon vanilla extract
1/2 teaspoon kosher salt
For the topping:
1 1/2 cups all-purpose flour
1 1/2 cup dark brown sugar
a pinch of kosher salt
3/4 cup cold butter cut into cubes
1 cup chopped pecans
Your choice of toppings. My recommendations: vanilla ice cream, whipped cream, more chopped pecans, a sprinkle of cinnamon, etc. Have fun with it. 🙂
Directions:
Preheat the oven to 375 degrees. Grease a skillet with cooking spray. Whisk together the eggs and sugar. When smooth, add the pumpkin, cream, vanilla, pumpkin pie spice, and a 1/2 teaspoon kosher salt. Whisk until blended and smooth. Pour into the prepared pan.
Using a food processor, pulse the flour, brown sugar, and salt to break apart clumps. Add the cubed, cold butter and pulse again until it forms a crumb mixture. Mix in the chopped pecans by hand until well incorporated.
(If a food processor is unavailable to you, you can follow the steps above using a fork. It will take slightly longer, but the results will be just as delicious!)
In your hands, press rough balls out of the crumb mixture. break off teaspoon-sized pieces and place over the pumpkin base in the pan.
Bake for about 40 to 45 minutes. The filling should be set and the topping should be golden brown.
Top with whipped cream or ice cream. Enjoy! 🙂
---
I hope you give these recipes a try if you have some downtime, or if you're just feeling hungry.