Tennis swings into district play
The tennis team is currently 1-2 in district play, and they are determined to make this season a great one.
"Our goal is always to finish as high as possible in district, and then see how far we can make it in playoffs," head coach Jason Maroney said.
The team has been practicing since the summer and constantly working on gaining experience. The team plays many matches against one another to imitate a real match.
"We have been practicing every day after school and playing matches to prepare us for district," senior Madalynn Parrymore said. "We have a young team this year, so they have been getting good practice for their years to come on varsity."
This year has been different for the tennis team for a multitude of reasons, but especially with the new varsity players.
"This season has differed in the fact that I've never had a varsity this young or inexperienced," Maroney said. "We are getting better as we gain experience, but as far as wins/losses, it's been tough."
Each member of the team has set their own personal goals for the season, but they are all determined to succeed as a team. Teamwork is an extremely important value to the team.
"My goals for this year are to make it as far as possible in team tennis, and hopefully go to area in individual tennis in the spring," senior Chase Borders said.
Every sport has had to adjust this year, but the team is making sure to take the necessary steps to prevent the spread of COVID-19.
"All the players have done a pretty good job of wearing their neck gaiters when they are supposed to," Maroney said. "They can pull them down while they are playing, but when I go talk to them, or if they are on the sideline, they have to pull them up."
The team is also not allowed to shake hands with their opponents before and after the game, but they've adjusted by doing "air high fives" or touching rackets. Despite many new regulations, the team is determined to make this season memorable.
"I hope that this season we can be in the top two in our district, and we've been working really hard to prepare," senior Mary Mercer said.
The seniors are working to set a great example for the younger players on the team.
"I'm really proud to be a senior on the team," Borders said. "Being a senior means other people look up to me, so I have to be careful with my actions."
There are only three seniors on the team, and they're all feeling surreal about their final year on the team.
"It's weird being a senior on the team," Mercer said. "I've made a lot of good friends during my time on the tennis team."
Seniors are also feeling bittersweet with this being their final season. They're all determined to cherish the memories they make in their final year.
"I want to enjoy this season as much as I can. I want to cherish the moments we have left this year," Parrymore said.
The coaches are also sad to see the seniors go, and they want them to have a great final year.
"My main goal for these kids is to see our seniors have a great year," Maroney said.
The team has also bonded throughout their time together, and the players have started to see their teammates as more of a family. They've all formed close friendships with one another.
"I've formed some of my best friendships the past four years, and I'm so thankful for that," Parrymore said. "Every year there are people that I become closer with, and I even met one of my best friends through this sport."
The team's next scheduled match is on Thursday, Oct. 22 against Kaufman in Kilgore at 3 p.m.
Go out and support the Bulldogs.
About the Writer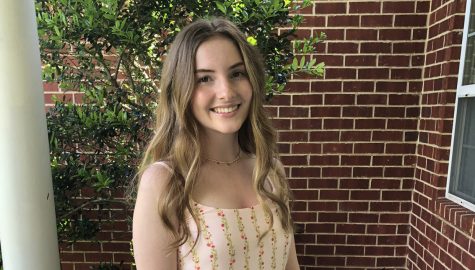 Payton Berger, Sports Editor
Payton is a senior, third year staffer, and sports editor for The Mirror. She is involved in newspaper, student council, and several other organizations....