Top ten high school movies of all time
Hang on for a minute...we're trying to find some more stories you might like.
Let's be honest, high school isn't like the movies. There aren't choreographed routines performed in the hallways or dramatic love confessions in front of the entire school. However, who can deny the guilty pleasure of a good high school flick? While realism has been thrown out of the door in a few of these movies, the memories and laughs gained from them outweighs the silliness.
High School Musical –

This movie introduced us to stars like Zac Efron, Vanessa Hudgens, and Ashley Tisdale. It centers around basketball star, Troy Bolton, falling for a "nerdy" girl named

Gabriella Montez. Troy and Gabriella audition for the upcoming school musical, and struggle to make it to the musical while also balancing their prior obligations to the basketball team and the academic decathlon. This movie showed that students can be involved in multiple organizations at once and be friends with different types of people.

This one ranks #1 on the list of unrealism, but it also ranks high on our entire generation's list. We grew up with the iconic music and quotes from this movie, and we'll continue singing "Breaking Free" and "We're All In This Together" as we enter adulthood.

Mean Girls –

Written by the iconic Tina Fey, this movie also packs an extremely well-known cast. Lindsay Lohan, Rachel McAdams, and Amanda Seyfried played their most well-known characters in this flick. The main character, Cady Heron, was raised in Africa by her parents, but they move to Illinois for her junior year. Cady experiences public school for the first time and becomes close friends with outcasts Janis and Damian. Cady unintentionally becomes friends with the most elite group in school, "the Plastics." She quickly learns why they have that name, and experiences many other lessons along the way. This movie accurately depicts the "mean girls" of high school and how they work. While the actions may not be as extreme, the problems that occurred in the movie are extremely common in modern high schools. This movie delivers catch phrases that are still being quoted 15 years after the movie's initial release date. This movie will always be considered a classic teen movie.

The Perks of Being a Wallflower –

This film is more recent and not as well-known as some of the others on the list, but that doesn't it make any less significant. This movie greatly depicts the high school experience of a socially awkward student. The lead, Charlie, has been experiencing life from the sidelines, but two outgoing seniors, Sam and Patrick, change his life. The two help Charlie truly experience life for the first time. Charlie experiences true friendship, his first love and the joy of life. However, his new friends are preparing to leave for college, and Charlie still has three years of high school to go. The fear of them leaving potentially threatens his new confidence and way of life. This movie is extremely impactful and showcases a point of view that is rarely shown in high school movies.

10 Things I Hate About You –

This movie is inspired by

Shakespeare's comedy, "The Taming of the Shrew," but set in a modern-day high school. The main character, Kat, is an extremely smart but aggressive girl. She's not well-liked by boys, which is unfortunate for her younger sister, Bianca. Their house rules say that Bianca can't date until Kat has a boyfriend, so Bianca makes a plan to find Kat love. Kat eventually crosses paths with the new kid, Patrick. Kat then has to decide if she'll allow herself to fall for him. This film includes the well-known poem near the end of the movie that is still quoted today. This movie is cute and filled with memorable moments. It shows a teenage girl opening up to someone for the first time and the pain and joy that comes with it. I feel like the students in the school are realistic and accurately depict teenagers in real life. This movie won't be forgotten for a very long time.

Love, Simon –

This film is the most recent release on the list. Coming out just two years ago, this movie struck the hearts of its viewers. The main character is a 17-year-old named Simon. He hasn't told his family or friends that he's gay and he struggles with the topic of how and when to come out to them. He begins chatting anonymously with a classmate online and falls for him. As the romance goes one, Simon desires to know the identity of who he's been pouring his soul out to. He embarks on a mission to discover who he is and along the way deals with his sexuality and his friends. This movie is so necessary for our generation because the LGBTQ+ representation in box office movies such as this is extremely limited. Teenagers also struggling with their sexuality could greatly benefit from the message behind "Love, Simon." Although dealing with a sensitive topic, the movie remains light-hearted and humorous. It's the most accurate description of high school I've seen in a movie. The parties, coffee runs, and friendships are so spot-on. This movie is a great start for more representation in media that isn't too serious. Simon's sexuality wasn't his only personality trait. Simon was smart, funny, a great friend, and he just happened to be gay. This movie set a great example of what there should be more of. 

The Breakfast Club –

This film is a perfect example of a classic high school movie. The John Hughes film is regarded as one of the most iconic movies of all time. The film begins with five students from different paths of life going to a Saturday detention. The group includes a nerd, jock, rebel, prep, and outcast. Initially they're bitter towards one another, but as the day goes on they begin talking and each tell their story. In the end they bond and wonder if school will ever be the same. The simplicity of this movie is what makes us hold it so close to our hearts. The movie only spans across a few hours, yet we are able to understand and fall in love with the characters. It portrays extremely different social groups and shows how teenagers can come together regardless of their background. This movie will continue to impact those who watch it.

Ferris Bueller's Day Off –

"

Life moves pretty fast. If you don't stop and look around once in a while, you could miss it." That quote seems to truly embody the heart of this movie. The lead, Ferris, is extremely skilled at skipping school and getting away with it. Ferris embarks on one final hurrah and convinces his best friend, Cameron, and his girlfriend, Sloane, to join him. They "borrow" a Ferrari and journey across Chicago. Their principal, Rooney, is determined to catch them. This movie is light-hearted and fun, but it also has several heartfelt moments. It describes the feeling of growing up and watching your friends grow in different ways. This movie expresses the importance of gaining life experience and having fun when you're young. This is one of the best feel-good movies on this list, and it makes you feel like a teenager when you watch it.

Can't Buy Me Love –

This film takes its title from a Beatles song of the same name. The male lead, Ronald, is a nerdy student who's desperate to be "popular." The female lead, Cindy, is a cheerleader and most popular girl in school. Cindy borrows her mother's expensive dress for a party and ends up spilling red wine on it. She arrives at the mall to buy the dress, but she realizes it's $1,000. Ronald happens to be at the mall at the same time and sees Cindy in distress. He offers to pay for the dress in exchange for her pretending to date him for a month. Cindy hesitantly agrees and the two begin their charade. Ronald becomes extremely popular and begins to lose his sense of self and friends. Cindy falls for who Ronald truly is and is disgusted by the person he's become. This movie shows that money truly can't buy love or happiness. It also shows that people appreciate others more when they're themselves. This movie is comical, but it has a deep and sweet message.

Grease –

At the time of its release, this movie was the highest-grossing musical film ever. This movie opens in the summer of 1959 with teens Danny Zuko and Sandy Olsson meeting at a beach and falling in love. When the summer ends Sandy is distraught that she must return home to Australia but Danny reassures her that their love is "only the beginning." The film skips to the beginning of the school year at Rydell High School where we discover that Sandy never returned to Australia and is enrolled at Rydell. Danny is a part of the T-Birds greaser gang and is completely different than who he was over the summer. Danny and Sandy cross paths and Danny acts "too cool" for Sandy. Sandy wants nothing to do with the new Danny and becomes a cheerleader and begins dating a jock. Danny realizes his love for Sandy and attempts to change himself for her by running track and dressing differently. Sandy also decides to do the same thing and change herself for him. In the closing scene the two admit their love for each other and reunite. The entire story is told through musical pieces which adds to the fun. This movie is iconic and well remembered. It impacted not only teen movies, but also musicals portrayed in movies. 

A Cinderella Story –

A modern twist on a classic fairytale, this movie provides a heartfelt story and comical lines. A Californian teenager named Sam has been living miserably with her stepmother and stepsisters after her father passed away. She's forced to work as a janitor and dishwasher at her stepmother's diner in order to collect money for college. After a cell-phone mix up, Sam begins an anonymous online relationship with a boy. The two become extremely close and decided to meet at the school dance. However, Sam realizes the anonymous boy is the cutest boy in school, Austin Arnes. After her discovery, Sam searches for ways to make herself cooler. This movie was so popular that it inspired several sequels, nevertheless the original remains superior. This movie stars Hilary Duff and Chad Michael Murray in their prime. This movie in ingrained in most of our childhood's whether we like it or not.
About the Writer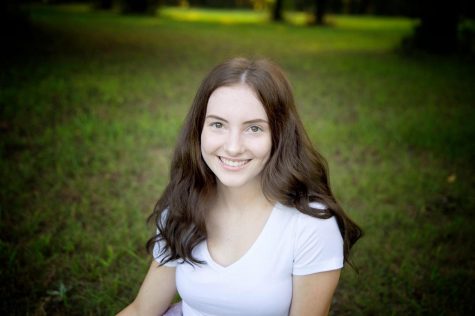 Payton Berger, Sports Editor
Payton is a junior, second year staffer, and sports editor for The Mirror. She is involved in newspaper, student council, and several other organizations....