Maintaining a legacy
Band performs in Region 4 UIL Competition, makes a 1
On Tuesday, Oct 15 the band traveled to Mt. Pleasant to perform in the Region Four UIL Marching Competition. The band marched to Triumph Fanfare by Williams, Drum Major March by J.S. Taylor, Honey Boys on Parade by Cupero, and On a Hymnsong of Philip Bliss by Holsinger. 120 students marched the drill. 
"We are always excited when the band performs well," band director Cliffton Walker said. "The group performed their best run through that day."
"
The group performed their best run through that day
— Cliffton Walker
Over the summer, the band worked over 150 hours on their drill at Band Camp.
"Putting together a UIL drill that was worthy of a first division required immense preparation," band director Yvonne Garica said. "Students started rehearsals mid July and carried through with hard work ethic the day of UIL marching contest."
In addition to their summer band camp, the band practiced every Monday night up until the day of competition. 
"Our goal is to aim for improvement at all times and throughout the year despite completing our competitive season," Garcia said. 
The band competed at a pre-UIL competition on Saturday, Oct 12. This was to help the band members know what to expect for the real UIL competition. 
"I feel really proud," senior and drum major Jimena Pina said. "I'm really glad we were able to push past our differences and everything going on to be able to come together and get a one."
Since the band made a one, if they make a one during the spring semester at UIL as well, they will be a Sweepstakes Band. 
"We worked really hard and everyone wanted that first division," junior Juan Martinez said. "The fact that we got it was awesome."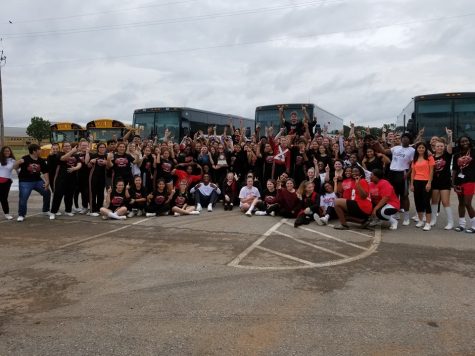 Some students are hoping better the band every year. 
"I feel great about making a one," sophomore Ryley Bell. "I think we did good. We worked really hard on Monday nights. Next year I would like to help the freshman more to help them be more prepared.
Practice for the band included breaking down the music in order to perfect it, memorizing their music, memorizing where to turn and learning how to perform at their best. 
"It made me feel important to make a one because a lot of people look down on the freshman," freshman Jayden Jones. "I felt really prepared because we practiced so many times after school and during first period that I got used to doing everything."
While marching season is coming to an end, the band is now focusing towards their goal of making a one at UIL during the second semester. 
"Band is a never-ending drive for progress and success," Walker said. "There is no band off-season."