Hispanic Heritage Festival to be held on Oct. 22
Aside from helping out with SAFFE DAY and Oktoberfest the FHLA (Future Hispanic Leaders of America) club will also be helping out with the Hispanic Heritage again.
"The Hispanic Heritage event is to celebrate the contribution of Hispanics as well as Latino Americans to culture," FHLA President Jasmine Camposano said. "We come together sharing a lot of different foods, dances, and games to
keep the tradition going."
The Hispanic Heritage event will
be held on Tuesday, Oct. 22 at the Kilgore City Park.
"Hispanic Heritage Festival is always a fun event that we look forward to every year," FHLA sponsor Julie Haufler said. "FHLA and KISD always put on an exciting event for families to enjoy."
Once again FHLA will have a group of members perform some Folkloric Dancing for the audience.
The dancers have started practicing their dance every Tuesday from 6-8 p.m. and Wednesdays from
5-6 p.m. at the City Park. Karla Mojica and Sanjuanita Fajardo will be teaching the dances this year.
The girls who are dancing will be wearing ranchero designed skirts, with matching shirts and boots. The boys will wear a white shirt, jeans, hats and boots.
"We as a club are preparing by starting dance practices and coming up with many different games to run. We are working hard to make everything come out looking good," Jasmine said.
Participants enjoy the dancing and have done it for many years now.
"I'm happy I get to dance," junior Jackie Estrella said. "It's my third year dancing and being a part of it."
Some people feel honored and love dancing and being involved in this event.
"I feel honored that I get to dance," FHLA treasurer Idaira Castillo said. "I love my heritage, I love my beautiful culture, and I love expressing it in a from of Ballet Folklorico."
Others are excited to try new things.
"It's a new experience for me," freshmen Maria Fajardo said. "I'm
excited because I've never danced this type of music and it's good to learn new types."
The Hispanic Heritage event is a unique way to celebrate the Hispanic Culture and people love and enjoy it.
"My favorite part about being able to dance in this event is not only the amount of fun we have, but how we're teaching people about our rich culture between the language, the music, dances, and the food," Idaira said.
As always, FHLA will for sure have their games for the little kids to enjoy.
"I love being able to interact and
have fun with the little kids," Jasmine said. "Seeing their faces light up from playing a game and winning warms my heart."
About the Writer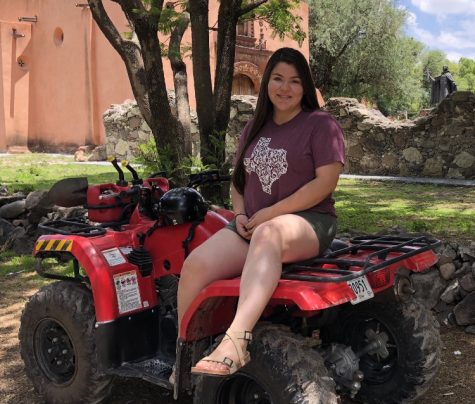 Carmen Vazquez, Staff Writer
Carmen is a junior and a second year staffer for the mirror. She is also the Vice President for FHLA. She is a kind and positive girl, who enjoys making...