August/September Employee of the Month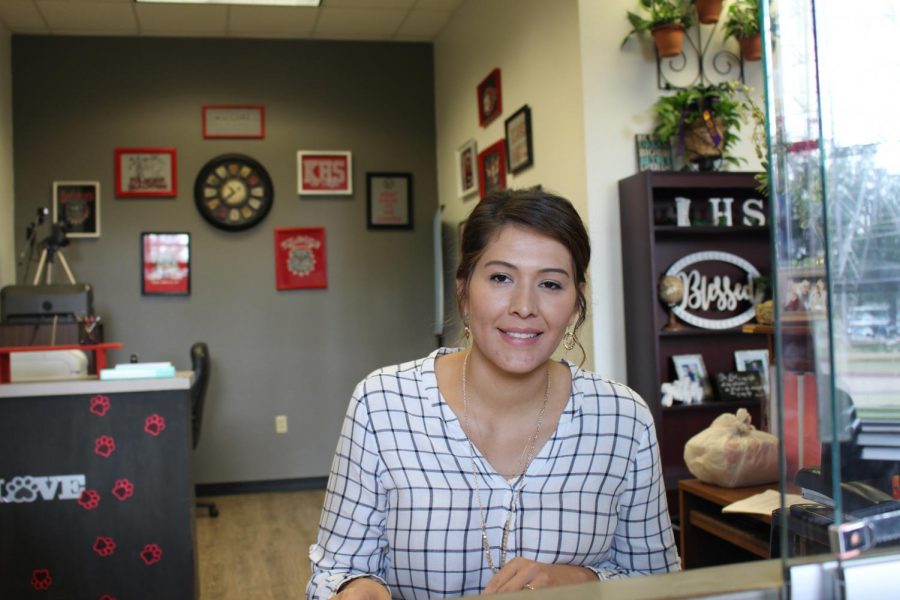 Yesenia Ramirez, Staff Writer
October 16, 2019
Yolanda Contreras is the high school receptionist/ interpreter and has been selected as the September Employee of the Month.
After high school she attended Kilgore College and majored in phlebotomy.
Working for the customer service at Kilgore High School can sometimes be challenging.
"It has been challenging to not agree nor disagree," Contreras said.
Before working at KHS Contreras worked several places. "I worked at a family-owned
Mexican restaurant and at a family clinic in Henderson," Contreras said.
Amigos Hispanos is a school activity that Contreras enjoyed being involved in.
"It was a club where we sold candy to pay for our trips and could travel to perform Folkloric dances," Contreras said.
Contreras favorite part of her job is working with her office aides.
"They are the ones who make the day go by," Contreras said.
Some of the people Contreras enjoys working with at KHS would be the principal's secretary Elyssa Jester and academic dean Lauren Thrasher.
"I had the pleasure of meeting them last school year," Contreras said. "They are very amazing friends and co-workers. We have become close friends."
Having an influential person
in life to learn from can help to see things different in life, and for Contreras it would be her husband.
"He was born in a poor country, therefore I learned to value small things," Contreras said.
For Contreras all of her dreams and goals for life have already come true.
"I am set on my goals, and I am happy where I stand at in life. My goals and dreams are now
for my three amazing children," Contreras said.
Contreras's biggest impact has been her children.
"They've changed my life from a 180° to 360° degree," Contreras said.
Having her kids come to Kilgore High School to study someday while she's working here is very exciting for Contreras.
"I am excited to be able to have the opportunity to have my kids
go to school at the same campus where I work," Contreras said.
There are moments when life brings people down and Contreras is no exception, but she has a special place she goes when she's feeling down.
"I like to sit on my front porch and meditate," Contreras said. Best friends can be helpful
when going through difficult times, and for Contreras that person would be her sister.
"She is the one person I can depend on. I can talk to her
when times get tough for me," Contreras said.
Aside from Contreras's work at school, she is a full time mother and enjoys to spend quality time with her family.
A quote Contreras lives by would be, "Never judge someone by the opinion of others."
About the Writer
Yesenia Ramirez, Staff writer
Yesenia Ramirez is a senior and a third year staffer. She is a member of FHLA. She enjoys long car rides while blasting music and learning about other...