Cheerleaders prepare to try out for the 2019-2020 team
Hang on for a minute...we're trying to find some more stories you might like.
Cheerleading tryouts were on Mar. 1 in the new gym  at 4:00 after school.
Those trying out are to wear a white shirt with red shorts, white shoes and a red bow. Candidates are required to have an 80 percent grade average, no more than one referral, no in school suspension and at least a 90 percent average attendance record.
This year tryouts will not be in groups; candidates will have individual tryouts and the officer tryout requirements have been amended. Trained NCA judges will be judging the tryout and the cheer sponsor Natalie Threlkeld will make the final decision.
"With the new season approaching, I am looking forward to the girls creating a strong sense of sisterhood," cheer sponsor Natalie Threlkeld said.
During the tryout season and process, seniors have a lot on their plates. They are expected to assist in different ways throughout, and are mainly emotional support for the girls. They meet these expectations while also trying to find peace in not trying out again and moving on with a bright, new future.
"As a senior, I am expected to help and encourage the girls trying out. It's a bittersweet feeling. I've always appreciated the outgoing seniors every year during my tryout, and now I am able to comfort the girls coming after me," senior cheer captain Saidie Hamblen said.
The weeks leading up to cheerleading tryouts are important for the candidates. They spend this time preparing as much as they possibly can whether by stretching or practicing motions in a mirror.
"For tryouts I'm taking tumbling classes twice a week rather than once and I try to stretch every night. At basketball games I try to practice sharp motions and spirit as well," sophomore and officer candidate Shelby Maring said.
The cheerleaders have had a busy 3rd quarter of school. On January 18 they traveled to the Convention Center in  Fort Worth to take part in the NCA cheer competition.
The team did not place in the top 20 like they had hoped, but they know what they need for years to come. They came in 27th place out of 98 teams.
"This year's cheer competition was very beneficial to our team. We all grew a little bit closer and learned a lot so we can return and get first place," freshman Kailey Jones said.
Think about the cheerleaders today as they prepare for tryouts.
About the Writer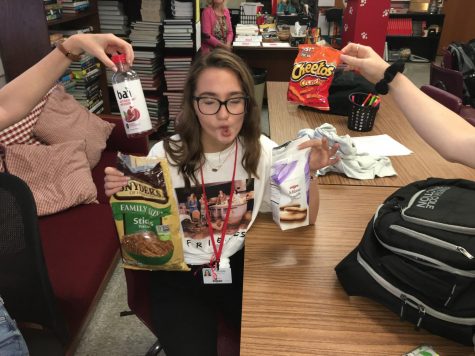 Faith Jones, Managing Editor
Faith is a junior, second year staffer and managing editor for the Mirror. She is in band, and has been in it for too long, as well as newspaper. Faith...