A senior started it all: Class of 2000's Lindsay Dick creates A Touch of Fame and Fashion Style Show
Hang on for a minute...we're trying to find some more stories you might like.
Pamela Mercer-McWilliams,
class of 1965 and the editor of the Reflector annual, was looking for an addition that would help fundraise the annual and do something unique for their group. They decided that
a Beauty Pageant would be the the project they needed to really kick things up.
"It would be different from February Fantasy where the
club beaus and sweethearts were presented," McWilliams said. "Each classroom voted. The students in the classroom had ballots and they nominated so many girls in their class (soph, jr, sr) to represent them."
The top ten from each grade
were presented, and the boys were later added on to this tradition.
The annual obtained three judges that were not for interviews but for strictly presentation. The Beauty and Handsome tradition raised money to defer the rising costs of yearbooks and grew throughout the years.
Lindsay Dick, class of 2000 was the editor of both the newspaper and the yearbook. Susan Reinbach was her adviser. Lindsay was into fashion, and worked in a local boutique, Cherry Hill, owned and run by Alicia Lee Nolte. Lindsay decided to blend both the fashion show and the clothes from her
mentor's store into a project. "Basically, we added the Style
Show to attract more attention to the Beauty/Handsome presentation, which had been at KHS for many years, and to give Lindsay her project for her Mentorship class," Reinbach said.
Lindsay was in a mentorship class that required her to create a project. Lindsay partnered with Susan Reinbach, the adviser for the newspaper and yearbook to create a Style Show portion of the show tha already existed.
"The first show also included the Anchor Club," Lindsay said. "We split the profits between them and the Reflector. Mrs. Jones and Mrs. Spinks (Anchor Club Sponsors) helped sell tickets the day of the event. Models were Juniors and Seniors from Anchor Club and
the Reflector staff. I think as it progressed some of this changed."
The first show had a zero dollar budget, so Lindsay and Reinbach had to put their creative skills to the test. Coleen Clower allowed Lindsay to use some of the drill team props and Lindsay used her mentor's mannequins for Style Show. With the help from Clower and Lee, Lindsay designed the whole show herself and introduced Cherry Hill and Hurwitz, clothing stores in Longview, for the clothing that was modeled.
"There were really not
complications in producing the Style Show, just much careful planning. Parents were cooperative; we had to work hard with the teachers to obtain permission for practice time for the big event. Their subjects were important and they hated their students having to miss class time," Susan said.
A Touch of Fame and Fashion was hard work but paid out dutifully
in the end. It fundraised money to help finance the yearbook, gave recognition to many students, and offered new performers a chance at the spotlight.
When Lindsay graduated, the Style Show continued to sell out KHS Auditorium for over nine years and each show proves more memorable after the other, but knowing about the first one that started the ongoing tradition is special to students at Kilgore High School.
"The memories are of excellent work. The themes were creative, the performances electric, the clothes beautiful, and the enthusiasm
was high. We had fun finding out the winners in each grade, and celebrated by putting beautiful pictures in the yearbook and newspaper," Susan said.
After high school, Lindsay veered away from fashion, but a Touch of Fame and Fashion has helped mold her into a professional. Lindsay still helps with Style Show and has seen
how it has evolved into an annual tradition.
"A Touch of Fame and Fashion was a special moment in my life. I'm forever grateful for the opportunity and experience," Lindsay said.
After retirement in June of 2009, Susan Reinbach spends her time mentoring a first grade student and tutors sixth grade students. When she is not tutoring students she is working on her Ranch, involved
in her church, maintaining her flower garden and walks four miles everyday.
"I have been retired from KHS and teaching since June 2009! Cannot believe that! I loved my job and spent 99% of my time working on the KHS newspaper and yearbook. Leaving my wonderful job in journalism at KHS was made easier by leaving my job in the capable hands of Amy Bates," Reinbach said.
About the Contributors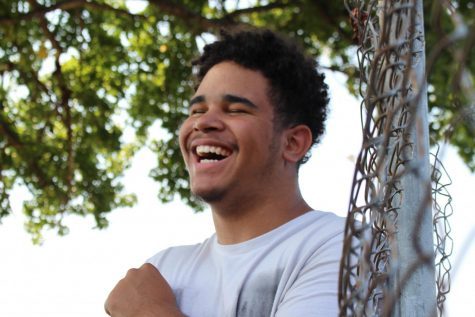 Jasiaha Boaz, Photo and Ad Editor
Jasiaha Boaz is third year staffer and is proud to be an editor. He likes to hangout with his friends and enjoys going to the movies and reading. He plans...