In loving memory & honor of our Dr. Gary "Doc" Sweek
Hang on for a minute...we're trying to find some more stories you might like.
Dr. Gary 'Doc' Sweek will be missed by many. His family, friends, co-workers, and his students are all in agreement that he was a great friend and teacher who loved life.
He was born on June 30, 1954 and died Wednesday, January 30, 2019.
Doc was a retired ER Physician who decided to work with young people as a teacher later in his life.
In 2004, Doc joined the KISD team. Doc has played many roles throughout our school, from substitute teacher to sideline physician to full-time teacher.
He was a CTE Health Science Teacher who taught the basics of health science, medical terminology, world health research, and he was also a monitor for the dual credit pharmacology course.
"He loved kids and would do anything to help them," freshman Jayla Thomaschaske said.
Doc had a huge heart for all of his students.
"I loved having Doc as a teacher," sophomore Elizabeth Kimberlin said. "He was always helpful. He related what we were learning to different stories about his experiences in the ER."
Doc influenced students and faculty all over KISD campuses.
"He would always make us laugh during class," freshman Vanessa Velasco said. "He said 'It's better to have people think you're dumb then let them know.'"
Doc was consistently finding new ways to teach his students, in a way that was simple to grasp.
"He made sure we understood everything and took time to explain," junior Casey McNaughton said. "He got to the point."
Officer Todd Nault and Athletic Trainer Red Ganus were speakers at Doc's Memorial Service on February 3, 2019 at Driller Park.
Not only were they co-workers with Doc but they were also very close friends.
Officer Nault admired Doc because of his genuine sense of humor.
"He could cut up with the best of them," Officer Nault said. "He was also very dependable. I don't use that word often, but that's who Doc was. I do not believe Doc knew the impact he had on KISD."
It was a beautiful memorial and the stories that were shared described exactly who Doc was.
"I certainly hope that his family was pleased with how the memorial went off," Ganus said. "That was the response I received from them following it. I think it was what he would have liked, if he had been here with us."
Doc was always pushing kids to do their best with everything they did. Such as school, sports, and any extra-curricular activities.
Everyone in Doc's life, loved his stories, his jokes, and most importantly, they loved him.
"I miss his stories, sarcasm, facial expressions, and his laugh," sophomore Mackenzie Alexander said.
Doc made class fun for his students.
"My favorite thing about Doc was his stories," freshman Breana Short said. "He was an amazing person."
Doc's students would like his family to know how much he really influenced them over the past few years.
"He was an amazing teacher that taught me so many lessons,"  freshman Tierney Willis. "I loved his stories and the nicknames he gave us."
Doc served a community of students who look back now and remember him.
"I will never forget the way he impacted my life and how blessed I was to be able to know him," junior Taylor Tackett said. "Doc made sure that I had a smile on my face when I left his class."
Doc had a sense of calm.
"I was in his eighth period class," sophomore Key'deriana Roy said. "Doc didn't show when he was sad or upset. He was calm and humble."
Doc was selfless except when it came to his sweets. Don't take his donuts. Doc always made jokes and knew how to have fun.
"Doc put others above himself, and he loved his blueberry donuts," Tacket added. "I miss talking to him. I could be myself around him."
KHS will continue to mourn, and we will continue to keep Doc's family and friends in our prayers.
Thank you for everything you have done for us, Doc. We miss you.
About the Writer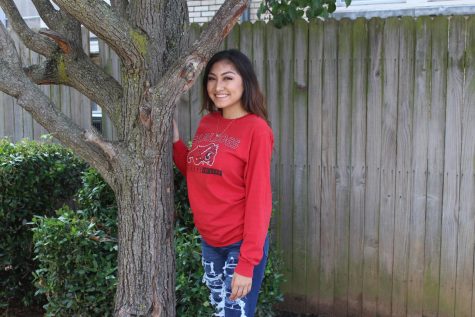 Fatima Amaro, Staff Writer
Fatima Amaro is a senior, third year staff writer and serves as treasurer for The Mirror. She plans on going to college after high school to study business...