Reaching for Stardom
Junior tries out for America's Got Talent
Hang on for a minute...we're trying to find some more stories you might like.
Singing her lungs out, junior Paige Morton has created a hobby that can lead to a future for herself. Her most recent local performance was at the Style Show on Feb. 2 but in Jan. she had the opportunity of a lifetime.
In San Antonio on Jan. 11, Paige tried out for "America's Got Talent". It was her first audition for the show. Her talent that began as a child has now given her the chance to appear on television.
"I've been singing since I was two years old," Paige said. "As I've gotten older it's something I've enjoyed more and more."
Paige began singing at a very young age and had performed many times. She sings at church regularly, at family and friend get-togethers, and at many school events.
"My first performance was very nerve-racking but amazing," Paige said. "I love being on stage and that's where I feel most comfortable."
Singing is something that Paige has always done well and enjoyed. She has never taken voice lessons and her success in singing is all on her own.
"Singing just came naturally to me," Paige said.  "I've always done it and over the years I have learned how to control my voice, when I get nervous or if my throat hurts."
She has improved her voice quite a bit since she began singing at two. She taught herself to deal with many obstacles and has improved greatly.
"My singing has changed in many ways but mainly my voice," Paige said. "I've learned how to hit notes correctly to not hurt my voice, and to make it all run smoothly together. My song choices have definitely changed too over the years in my style. "
She sings many genres. She currently enjoys pop but traditionally sings country or slow songs.
"I favor pop music for sure, but I sing my best with country music or semi-slow songs," Paige said.
Paige's parents help her fulfil her dreams. They have taken her to show practices, performances, and took her to the "America's Got Talent" audition.
"My parents do absolutely everything they can to help me get where I want to be," Paige said. "They've taken me to any practices that I need to be at, they have taken me to all my shows early so I can get ready or practice or anything, and they make sure that they are there, with their cameras ready, for when I come on."
Music has brought about many opportunities for her. She has sung for and hung out with some of her favorite artists after concerts.
"I have met 'Why Don't We' twice and I have gotten "after party" tickets both times," Paige said. "I sang with/for Zach Herron; he told me 'I should pursue my singing' and I'm trying."
She has made plenty of memories while singing but her recent audition is the most memorable.
"I will NEVER forget that," Paige said. "It was the biggest risk I've ever taken and it pushed me to do even better."
Though she cannot disclose what went on during the audition exactly, she does feel her audition went well. She sang "One Day" by Tate McRae like at style show. She felt she sang well but she did have complaints about her singing.
"Definitely went to hit high notes and my voice completely didn't want to cooperate," Paige said. "I sounded like a dying cat."
The audition process is quite simple. She says the biggest thing is a lot of practice.
"Not much to it," Paige said. "You pretty much just show up, sign in, get your number, and fill out paperwork then go in to your audition."
"
I feel like no matter how bad life gets, or how bad I'm feeling about myself, I can always sing, and I feel like I'll always get lost in the music."
— Paige
Paige doesn't know if she has made the show yet, but she hopes she does.
"I believe, I do," Paige said. "There were a lot of good people there, and it's a tough competition. I'm crossing my fingers I do."
Even if she doesn't make the show, she doesn't have plans of slowing down. She will continue on with the same or other shows.
"If I don't make this audition, I plan on going back next season or on another show," Paige said. "I plan to start YouTube up again but strictly for singing."
Paige sees herself with a future in music. She would like to go big and maybe dabble in other genres.
"I see myself with many albums working with some of my favorite artists," Paige said. "This sounds dumb, but I've always wanted to try rap or sing with some of my favorite rappers."
Paige's singing is a major part of her life. Music is an escape for her and has lead to many great things for her.
"I enjoy singing because I feel like I can relate to some of the songs, and it just makes me feel happy and peaceful," Paige said.  "I feel like no matter how bad life gets, or how bad I'm feeling about myself, I can always sing, and I feel like I'll always get lost in the music. I feel most comfortable and most at home when I sing. Even if a few people in this world don't like my singing I know down in my heart I will always love the way I sing."
About the Writer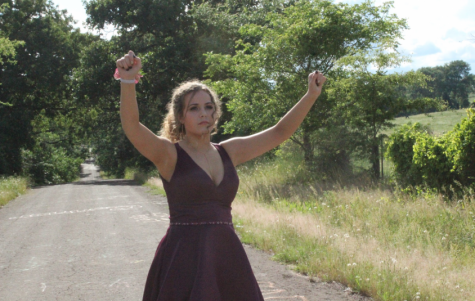 Olivia Arp, Managing Editor
Hey guys it's Olivia Arp! I'm a junior second year staffer and currently serving as the copy editor. I enjoy reading, hanging out with friends, eating...