Sisu takes the win
Hang on for a minute...we're trying to find some more stories you might like.
Starting November 1, Kilgore High School hosted a canned food drive to support the local Helping Hands. Students were asked to bring canned goods, non-perishable food items, new and gently used coats, new socks and toiletries. If students bring any of these items, they are rewarded with house points. This is where a friendly competition began.
Throughout the last week of December, all the houses were neck and neck with their points. Everyday, a different house was in the lead, but Sisu ended up being the winning house.
As a reward, KHS wanted to take all Sisu members to the bowling alley for bring the most cans and items. This is the first reward that occurred outside of school, so everyone was excited.
This past Tuesday, buses were loaded with Sisu members as they traveled to bowling alley.
"The environment was really chill and I liked hanging out with my friends. We got to work as team and tried to beat each other at bowling," sophomore Braxton Green said.
Although this was a great reward and a fun competition, there is a bigger picture to the can food drive. A school food drive can enrich students' knowledge. It can show them how poverty affects the lives of many and how their service can change that. They are educated that poverty happens everywhere, even if their little hometown.
"The can food drive can benefit students by showing them compassion and how to serve others. I'm glad KHS did this food drive," senior Angel Landaverde said.
The can food drive is one of the many events that KHS has planned to help the community. Be on the lookout for more.
About the Writer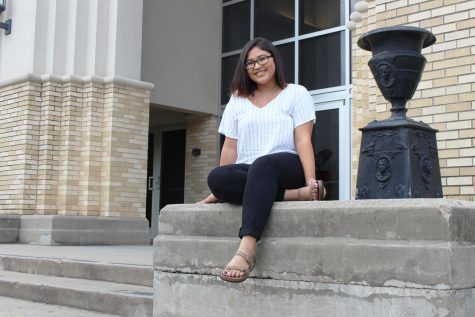 Emily Salazar, Managing and Design Editor
Emily Salazar is a senior, three year staffer and a two year editor for The Mirror. She serves as a section leader for the clarinets in the band. She is...