Cinematic Genius
Lying around, waiting for something to happen, freshman Carly Mauldin and her family stare at each other wishing for something to do.
They have run out of things to do and are stuck on how to entertain themselves. After what seems like forever of absolute nothingness, an idea pops into Carly's head. Carly Mauldin's cinematic career started with her creating a movie like nothing else.
Being creative and having a passion for writing turned absolute boredom into a passion.
Carly hopes to continue her hobby and has already begun her next movie.
"Writing has always been a way to escape for me," Carly said. "I get to make up a whole world, and what's interesting is that it usually ends up becoming its own thing."
When her family came into town a few years ago, the movie idea was born. Having nothing to do and plenty of free time, Carly and her family created her first ever movie.
"We got bored, so Allie suggested that we make a movie," Carly said. "We had no script, or really any plan at all, just a basic idea."
They turned on the camera and a movie was created. The group didn't have a plan and structure wasn't in their vocabulary at all that day.
"We filmed the whole thing that afternoon on an iPhone and stayed up late to edit it," Carly said. "We worked for eight hours straight to get this dumb movie finished. It was exhausting, but it was so much fun, and very rewarding."
Plenty of hours of work were put in to making this movie. There were plenty edits made and mounds of frustration, but finally the movie was completed.
"Somehow it's simultaneously the best and worst movie ever made," Carly said. "It's low quality, the characters are all stereotypes, and the humor is far from advanced, but I love it, and I'm so glad I made it."
Although there was no purpose behind creating the film, it was made and became a hobby that Carly has stuck with for two years. Since her hobby and interest has continued, more movies have been created.
"My first movie was called 'Clayton Mauldin Man of Sorrow,' and I'm in the process of finishing up the sequel 'Jackson Mauldin Man of Sorrow,'" Carly said. "However, my first serious movie was called Cameron."
She has continued writing movies and recently entered a film festival. Carly entered her movie "Cameron" into the contest that was finalized on Nov. 15 to Nov. 18.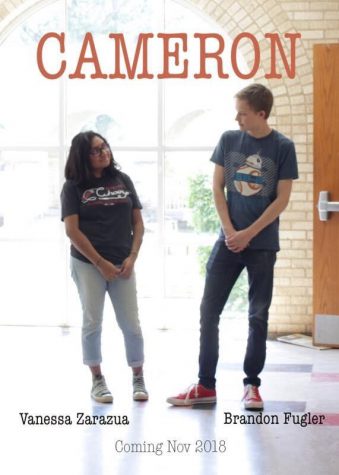 Courtesy Photo
"I made it with the advanced theater class last summer, and we entered it in the Reel East Texas Film Festival," Carly said. "I just started to work on my entry for next year, too."
For her next film, she wants to create a mockumentary. A mockumentary is a show that takes on a subject in a lighthearted fashion.
"I'm really excited to try something different," Carly said. "It'll be interesting to tell a story in an unconventional way."
Carly's passion for making movies is powerful; however, she does not see herself making a career out of it.
"I'm not sure if I want to try to make it in the movie business," Carly said. "I can see myself making films the rest of my life, even if it's just a hobby."
She hopes to continue her cinematic career even if it is not her profession. Making movies is a favorable hobby of hers that can create many memories and opportunities.
"There's nothing better than working hard on something you're excited about and finally being to see it," Carly said.
Plans for future films keep her busy.
"I love a good coming of age movie," Carly said. "As a teenager, struggling with growing up is something I can connect with, and I know most other people my age can, too. I'm really inspired by John Hughes movies like 'Pretty In Pink' or 'Breakfast Club,' and I think that really showed in the script for 'Cameron.' I'm always open to trying new things though, and I'd really like to branch out to some different genres, like maybe horror."
"
I love a good coming of age movie. As a teenager, struggling with growing up is something I can connect with, and I know most other people my age can, too,
— Carly