Students fixing the world
High school students prepare for a mock United Nations session
Humanities teacher Carl Mohn has taken over the Model United Nations club after Lance Homenick's retirement last year. Model UN participates in a mock United Nations session hosted by Region 7 at the first of the year. Students select an issue to address for the country they are assigned and have to find a way to solve it.
"It makes students engage with other parts of the world they have to consider how the rest of the world is living," Mohn said.
"
It makes students engage with other parts of the world they have to consider how the rest of the world is living"
— Carl Mohn
Students research the topic they choose and write  resolution on how the would solve the problem as their country for their country and the rest of the world. Often times the issue that plan to cover means something to them.
"I plan to cover the issues relating to women's education in Afghanistan because the rights for women aren't the same there as they are here and that's something important to me," sophomore Rachel Bowman said.
In writing the resolutions students gain an understanding of what is going on in their world outside their small town.
"When we learn to see the world through others eyes it makes us better at interacting with one another and reminds us that we are global citizens," Mohn said.
Students in the organization can form their own opinions on today's politics and can feel for themselves the impact of what is happening in the world.
"I joined Model UN because I like learning about real-world events and global politics seem interesting," junior and first year member Lauren Bryant said.
Two years ago the middle school joined the middle school level model UN. The honors kids at the middle school work for most of first semester on their resolutions and extra entries as a grade.
"I did it in middle school and I really enjoyed it," freshman Madison Donovan said. "I thought the competition was really fun."
The middle school sponsors/ teachers encourage their students to join model UN in high school. The high school version is very similar to the middle school version and students can easily transition from the middle school level to the high school.
"Hats off to Mrs. Loper for promoting this," Mohn said. "We now have a much larger pool of talent."
About the Writer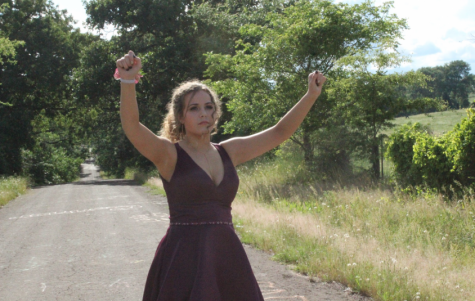 Olivia Arp, Managing Editor
Hey guys it's Olivia Arp! I'm a junior second year staffer and currently serving as the copy editor. I enjoy reading, hanging out with friends, eating...