Watermelon fest begins the new year
Hang on for a minute...we're trying to find some more stories you might like.
On August 16, KISD held their annual watermelon fest in the indoor facility at Kilgore High School. Different organizations performed to show-off new members and the work they accomplished over summer break. Band, HS and MS cheerleaders and twirlers, color guard, and the Hi-Steppers performed for their friends and family.
"Watermelon fest is something I've looked forward to every year. I love how the community comes together to show their support for our school," Captain Saidie Hamblen said,"With this year being my last time to perform at watermelon fest, it was a bittersweet moment. I'm sad that I will never have the opportunity to do that again, but I'm super excited to see what's in store for KHS!"
The watermelon fest gives these organizations a chance to be able to perform in front of an audience. Performing in front of a crowd can be extremely stressful at times, so this gives them a chance to get used to being in the spotlight.
"Watermelon fest makes me feel more comfortable," junior and head twirler Diamond Smith said.
This event is also for friends and families to come watch the performances before school starts because there are some supporters who can't always make it to the football games. All performances get a head start on the new year as they begin to prepare for the football games. These performances get the community of Kilgore excited for the new season.
"Yes, it's fun to go and see my friends there." Feature twirler Jordan Ware said," Performing makes me alive."
Watermelon is an annual event where the community comes together and enjoy performances by the students. This is an event that people look forward to every year.
About the Writer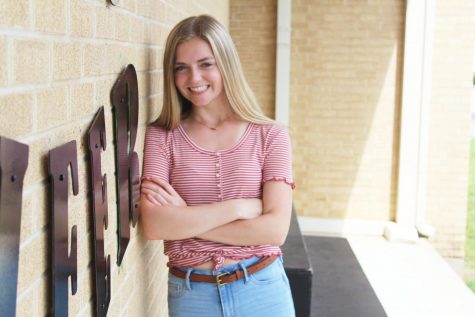 Chelsea Pierson, Staff Writer
Chelsea is a sophomore and first year staffer. She enjoys eating, sleeping and hanging out with friends on the weekend. Her favorite netflix show is Stranger...