Big time double bassist
Junior reflects on performance opportunity at Carnegie Hall
Hang on for a minute...we're trying to find some more stories you might like.
Following an audition as a student double bassist with the Honors Performance Series, junior Jacob Stone received the opportunity to perform with other invitees at Carnegie Hall in New York on Feb. 4. After being recognized with the invite, Stone experienced coverage from numerous news outlets and was given the "I Believe in You" Award from the KISD school board in October. The following was an interview of his perspective from November, followed by updated thoughts from February.
Before the Concert:
Q: How did you become aware of the Carnegie Hall opportunity?
A: After successfully being a part of the ATSSB All-State Band back in February, I began to receive numerous letters from colleges all over the United States. In June, I received a letter in the mail from the Honors Performance Series in New York City. This letter told me that I had been automatically nominated (because of my participation in the All-State Band) for the Honors Performance Series, and I was given opportunity to audition to perform at either Carnegie Hall or the Sydney Opera House.
Q: What was the audition experience like for this opportunity?
A: The audition music was difficult, not unlike what I expected, but I had a lot of willpower. I was determined to achieve this goal of performing at Carnegie Hall in New York City. For weeks, I worked for countless hours trying to find that perfect sound. I kept emailing recordings of the excerpts to Mr. Moehring (my private lesson teacher) and he continued to give me advice for improving my sound. Finally, he could no longer give me further advice, and I sent in my final recording as my audition tape. The audition materials said that I would be notified of whether or not I had made Carnegie Hall "around October 31st."
On October 31st, I received a text message from my mom that read "OMG JACOB." I knew what it was about, but I was unsure of whether or not the reaction was good or bad. I checked my inbox and found an email from the Honors Performance Series. I read the first line: "Jacob Stone, Congratulations!" I nearly leapt out of my seat. I had to read no further, because I knew that I had achieved my goal. I was going to New York City to perform at Carnegie Hall.
Q: Do you plan on continuing with orchestral music or music in general into adulthood? If so, what are your plans?
A: I absolutely plan to make a career out of music. I plan to go to a renowned university of fine arts and major in music, to later perform professionally in orchestras around the world. 
Q: Is there any possible follow-up to playing at Carnegie? If so, what is it, and how do you feel about it and your chances of being able to be involved with it?
A: Next year, I plan to audition for performing at the Sydney Opera House in Sydney, Australia, which is the other opportunity offered to high school musicians through the Honors Performance Series. That concert will be in the summer of 2019.
Q: How did you feel when you heard about/received the "I Believe" Award?
A: When I received the "I Believe" Award, it really gave me perspective on how much my community really cares. I didn't think people would really care as much as they did about my accomplishment, so to be presented an award like this, I feel like I have everybody on my side, and nothing can hold me back from accomplishing my goals!
Q: What was the award presentation like?
A: It was stunning. I was blown away. I couldn't believe how much support I was given by my community.
Q: What's the deal with getting funding for going to New York? How's that going, and what are your thoughts on the situation with it?
A: We have started a GoFundMe page where anyone can go to read about and donate toward my trip to Carnegie Hall. Since we started that page, we have raised about $2,000 and it is still going strong. The amount of support from the community has completely blown me away, and I am simply in shock of how many complete strangers have pitched in to this effort.
Q: Are you nervous to play at Carnegie Hall? Why or why not?
A: Surprisingly enough, I'm not nervous to play at Carnegie Hall. I feel like this is just what I have been destined to do. Music is my calling, and this really feels natural to me.
Q: Describe your anticipation for the experience.
A: This is my biggest accomplishment so far, and I feel like I am on the brink of living my dream. Of course, I couldn't have done it without my community, but it also took a lot of grinding. To others, I say take pride in what you earn, because hard work is something to be proud of.
After the Concert:
Q: What was the process of funding like as a whole? What was the outcome of that?
A: My mom's best friend set up a GoFundMe page that was shared all over Facebook. The amount of support we got was outrageous, and thanks to the generous hearts of our home here in East Texas, I was able to raise enough money to go to New York without having to worry about watching the pocketbook at every meal. It really helped me in being able to have a good time without worries.
Q: How was the Carnegie Hall experience?
A: Playing at Carnegie Hall was even more magical than I imagined. When I walked on stage, I felt like a star. I looked up at the ceiling, and it was ten stories tall! I looked at all the hundreds of people and they were all looking back at us and it just filled me with joy. I knew whenever I stepped on the stage, I had to take it all in because it would be over before I knew it. So I filled my senses with every aspect of it that I could take in. I couldn't believe where I was. When it came time for us to play, I played what felt like the best I have ever played in my life. It was definitely an experience I will never forget as long as I go on living. It is the single greatest experience I have ever had.
Q: Do you have any particular stories from your New York trip?
A: One night, we went to see a show on Broadway, and I wasn't all that excited. It seemed like it was a little played out, from everything that I had experienced growing up. I had never been to a musical before, but I had seen so many Disney movies in my childhood that I knew I wasn't all that fond of musicals. But boy was I wrong. From the moment the curtains opened to the moment they closed for the last time, my eyes were glued on everything that was going on. It was absolutely delightful. I didn't know that I really liked musicals until I experienced that. It was fantastic.
Q: What did you do while in New York?
A: We went ice skating at the Rockefeller Center, visited central park several times, went strolling down 5th avenue, visited Grand Central Station, rode on buses, in taxis, and on shuttles, went on a cruise around the Statue of Liberty, went shopping on Times Square, saw a Broadway Show, and overlooked it all from the Top of the Rock at the Rockefeller Center.
Q: What was your favorite part/moment of the Carnegie Hall concert and/or the trip as a whole?
A: My favorite part of the concert was right after we all struck the final note of the grand finale. There was a moment of instant reflection, where I thought about everything leading up to that moment. The few seconds of silence before the uproar of applause and the standing ovation were so beautiful, and I thought to myself, "I really did it. I really just played Carnegie Hall, and did it well." I almost couldn't believe it.
About the Writer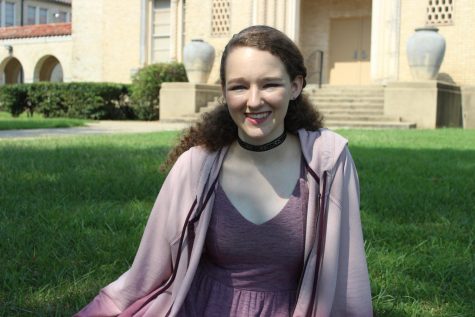 Bailey Green, Editor-in-Chief
Bailey Green is a senior staffer with three years under her belt. She's associated with Advanced Theatre Production, National Honor Society, La Bamba,...