The FFA Officers traveled to Fort Worth, Tx for the 91st FFA Convention on July 14-19. Before the State Convention, the Officers attended a leadership camp on June 25 and an Officer retreat July 8-10.
"
One of the most important workshops was how to learn and grow from past experiences and mistakes
— Dayton McElyea
"At District Leadership Camp," senior and FFA president Dayton McElyea said. "we went through various workshops that taught us a variety of lessons important to leaders. One of the most important workshops, taught by one of the state officers Ashlie Thompson, was how to learn and grow from past experiences and mistakes."
The officers got to listen to Clint Pulver, a keynote speaker, whose message was how perspective determines reality.
"Clint's main point was this 'one person can change your life forever,'" senior and 2nd vice president Kaden Clark said. "This really spoke to me because it showed me that one act of kindness or understanding can change someone for the better."
Trinity Bradshaw, Colton Burrows, Kaden Clark, Josiah Hoskins, Dayton McElyea, and Jasmine Wilson received a Texas FFA State Lonestar degree.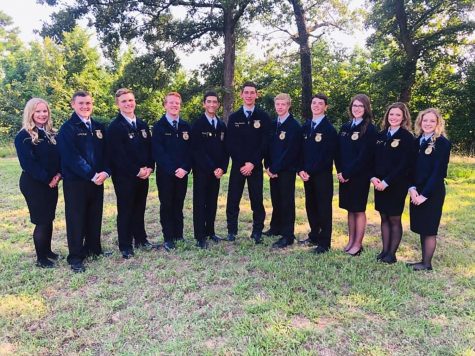 "I'm excited to see more involvement in our chapter," Clark said. "I'm really looking forward to seeing how our new officer team works together."
At Leadership Camp, the officers focused on learning time management, as well as line dances.
"I'm excited to be a part of a great group of people who get the opportunity to lead others," junior and secretary Chase Borders said. "I really want to work on procrastinating less on my officer duties and activities."
Their Officer Retreat was filled with games, planning their upcoming year, learning officer rules, and how to be a good officer.
"It was a great time to get to know the people who I'm going to spend so much time with this year," Borders said. "I learned that it's always good to plan ahead and that when you are a leader, there are always people that will be watching you and following how you act."
The students had to talk to corporate sponsors, talk and take pictures with Area officers, and make videos talking to different people for a scavenger hunt.
"This will be my third year being an officer," Clark said. "I'm sad that it's my last. I really want to better myself by involving more kids in events and activities so they feel involved."
The officers were all able to have the opportunity to learn as an officer and build their bond.
"This year I'm really looking forwards to getting to know the members better and building those relationships with them," McElyea said. "This being my last year in FFA, I'm trying to be as involved as I can. I'm looking forward to all of the shows and district/area events we will have as well."