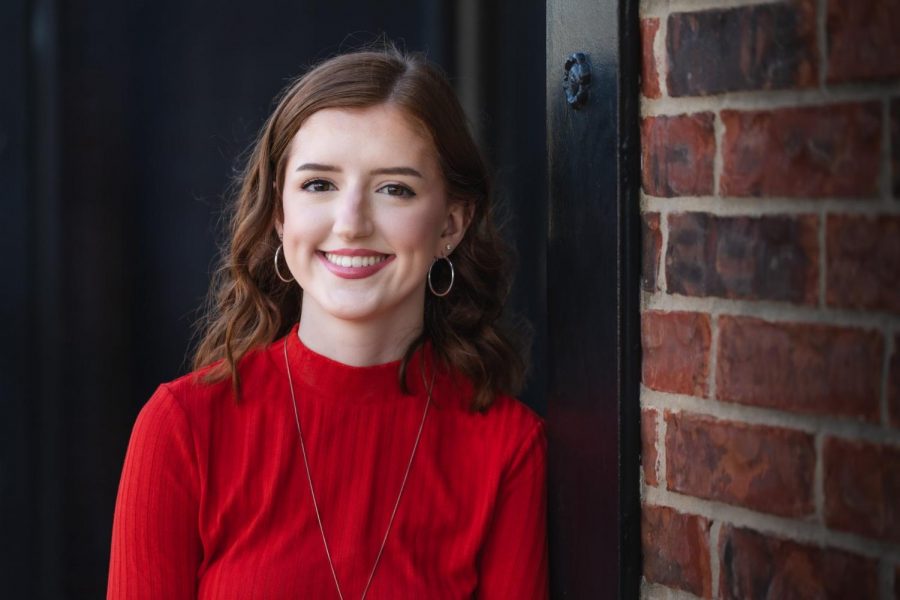 Carlie Massey is the name and being happy is the game. Carlie is a senior, a third-year staffer and Editor in Chief for
The Mirror
. She is a third-year clarinet section leader in band and a first-year twirler. Carlie has won many medals in UIL and continues to strive to reach State by May 2020. She can be found at Brookshires in Kilgore or sleeping anywhere. After she graduates, Carlie plans on attending Tyler Junior College and will transfer to the University of North Texas in order to pursue a career in journalism.
An Editor in Chief oversees all phases of the production of
The Mirror
. All stories and ideas run through the Editor-in-Chief for review. The Editor in Chief is responsible for assigning staffers with stories and pages for the print edition.
Carlie Massey, Editor in Chief
Mar 04, 2020

College and Career Fair held March 2

(Media)

Feb 26, 2020

College and Career Fair to be held March 2

(Story)

Jan 16, 2020

How to keep your New Year's resolutions

(Story/Media)

Dec 17, 2019

Twirling UIL & VBM Competition

(Media)

Dec 16, 2019

Should you recycle, Will it make a difference?

(Story)

Dec 16, 2019

Model UN prepares for competition

(Story/Media)

Dec 13, 2019

Ugly Christmas Sweater Contest Winners Announced

(Story)

Dec 12, 2019

Why athletes need support from family

(Story)

Oct 28, 2019

Poverty, how it affects students at school

(Story)

Oct 24, 2019

Maintaining a legacy

(Story)

Oct 18, 2019

How to live in the moment, not rush through high school

(Story)

Oct 18, 2019

Sporting Clay Event to be held Oct.19

(Story)

Oct 16, 2019

Choir hosts concert Oct. 1, Middle School joins them

(Story)

Oct 16, 2019

The truth about your skin

(Story)

Sep 16, 2019

Homecoming Queen to be announced

(Story)

Aug 27, 2019

Colby Rosen

(Story/Media)

Aug 22, 2019

Cyberbullying in the 21st century

(Story/Media)

Jul 30, 2019

FFA travels to Fort Worth, Tx for State Convention

(Story)

May 21, 2019

UIL Team triumphs during spring season

(Story)

Apr 04, 2019

Toxicity in our world today

(Story/Media)

Apr 01, 2019

Police security tightens around KISD campuses after cyber threat

(Story)

Mar 22, 2019

Last quarter of the 2018-19 year begins, education continues

(Story/Media)

Mar 08, 2019

Theater travels to Chapel Hill, performs One Act Play

(Story/Media)

Mar 04, 2019

Has the digital privacy in our world been compromised?

(Story/Media)

Mar 04, 2019

Donkey Basketball held to raise money for FFA projects

(Story)

Mar 04, 2019

Finding health in the new year

(Story)

Mar 04, 2019

Theater department travels to SFA, Lindale to critique play

(Story)

Mar 04, 2019

Choir students attend King's Singers clinic

(Story)

Jan 18, 2019

Classroom Innovation Necessity

(Media)

Jan 18, 2019

Why life as a teen is not always easy

(Story/Media)

Dec 14, 2018

Sleep to succeed: how much sleep do you really need?

(Story/Media)

Dec 14, 2018
Dec 11, 2018

One Act play auditions held

(Story)

Oct 31, 2018

Into the Woods to be performed Nov. 2-4

(Story)

Oct 24, 2018

Newspaper staff response to anonymous shooter threat

(Story)

Oct 23, 2018

Annual Poinsettia Sale hosted by Prom Committee ends Nov. 7

(Story)

Oct 22, 2018
Oct 18, 2018

UIL teams form for new season

(Story)

Sep 12, 2018

'Into the Woods' cast list released

(Story)

Aug 29, 2018

Theater Department To Hold Tryouts

(Story)

Apr 23, 2018

Change Demands Attention

(Story)

Apr 03, 2018

One Act Play Cast & Crew Travels To Bullard, Performs One Act Play

(Story)

Feb 22, 2018

Student athletes sign on to colleges

(Story)

Feb 22, 2018
Jan 18, 2018

UIL One Act Play cast to be announced

(Story)

Dec 18, 2017

E4 Leadership class visits High School

(Story)

Nov 07, 2017

Theatre students attend performing arts competition

(Story)

Oct 31, 2017

Golf participates in first tournament of the season

(Story)

Oct 29, 2017

Humanities 2 creates historical art gallery

(Story)

Oct 05, 2017

Two year anniversary of humanities class

(Story/Media)

Sep 29, 2017

Golf begins practice at Meadowbrook Drive

(Story)

Sep 27, 2017

Scrooge the musical to be performed

(Story/Media)