Fun Run
Education Foundation raises money by a 5K run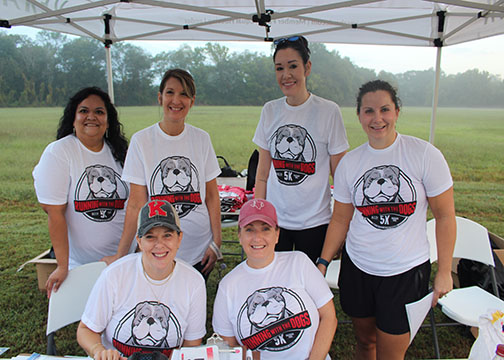 On Saturday, October 2, the KISD Education Foundation held the Running with the Dogs, a 5K run,  at Creekside Trail. The $10,027 raised by the runner fees, t-shirt sales, and sponsorships will be benefiting all of the Kilgore School District.
"The Education Foundation had to cancel its Gala, the only fundraiser for the organization, last year due to Covid-19," volunteer for the Education Foundation Erin Brogoitti said. "The board is very passionate about the grants that we give annually, so we needed a way to raise some additional funds this year to make up for the lack of funds last year."
The NHS and the Hi-Steppers helped the runners by holding signs at corners so the runners knew where to head to next. Jessica Holmes, Katie Smith, Millicent Tinney and Meggan Clark all heavily contributed as well as the Education Foundation. Josh Selleck, the City Manager, personally mapped the course.
"Before this race, there had never been a race at the Creekside Trail. The City of Kilgore has done such an amazing job creating and maintaining these trails, and we thought it would be a great way to showcase them," said Brogoitti. "It also provided adequate parking and gathering space for vendors and participants. The City of Kilgore and the City Manager, Josh Selleck, were instrumental to the success of the race for allowing us to use the property and help mark out the race route."
A run is a great way to get a variety of people around to attend and the low initial cost was more accessible to a larger variety of people of all ages.
"The difficulty lies in the fact that there are hundreds of little things that have to be done to make an event like that be a successful one," said Brogoitti. "Making sure all of that was taken care of and nothing slipped through the cracks was the most important thing to the success of the run."