Science Club considers fundraiser, wants to get involved with the community 1
Due to the Science Club sponsor leaving last year, the Science Club's future seemed uncertain.
"The sponsor was very involved with the club, took on a lot of its responsibilities, and tried to stay as flexible as possible with everyone's schedules," junior Science Club member Ruben Estrella said. "I didn't know if we would even have a club this year."
This year, science teacher Brandon Osborne took over the position of sponsor. Though there is not much documentation from previous years on how to run the club, and it is his first year to teach classes, he is choosing to keep this club alive.
"The hardest part of taking over has to be not knowing exactly what we have available and being a first year teacher at that," Osborne said.
The students think that Osborne is "doing great" for it being his first year of being the sponsor.
"He's definitely opening up more opportunities for us as a club," sophomore and club reporter Karlee Menges said.
The club has already voted this year on many projects that include both fundraisers and community service.
Now, they wait for approval from administration.
"I want to foster the students' love of science as well as service," Osborne said.
The fundraisers being considered include candy grams, a bake sale, a car wash, and more. The community service projects include a toy drive, care packages for soldiers, trash pickup, and Saturday for Science.
The club is trying to have a greater community outreach than ever before.
"We did candy grams last year, and I'm so excited to have even more opportunities for community service and fundraiser this year," Menges said.
The students get to have a lot of involvement in terms of voting and making decisions for the club's future.
"I want the students to run the club with oversight and guidance from me so they grow together and get used to working collaboratively," Osborne said.
Last year the club did many exciting things such as candy gram sales and taking a trip to the Perot Museum of Nature and Science in Dallas, but this year they have more planned.
Osborne plans to take the group to science competitions to earn money and scholarships.
"I am excited to see what all we do for the community this year," sophomore and science club member Eryka Hopper said. "We weren't able to do as much as we planned last
year, but I'm hoping we're able to this year."
The club will continue to grow, reshape, and form with new leadership. As this takes place, the members hope to grow closer together.
"Making new friends and creating stronger bonds with old friends is probably my favorite part of this year," sophomore secretary Janette Chavez said.
The focus of the club this year is helping out the community, through this the members will grow as people.
"The most exciting part is being able to encourage young scientists to be active and work together, and as such I am able to witness their growth," Osborne said.
About the Writer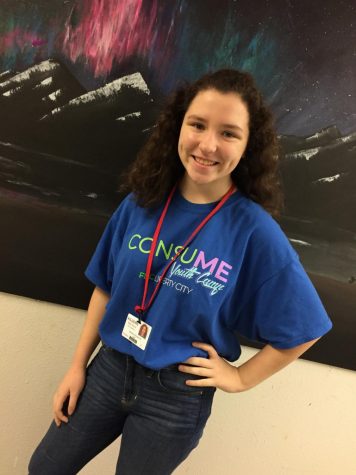 Madison Donovan, Staff Writer
Madison Donovan is a sophomore and a first year staffer. She has received many medals in UIL in subjects ranging from journalism to science. Her ultimate...