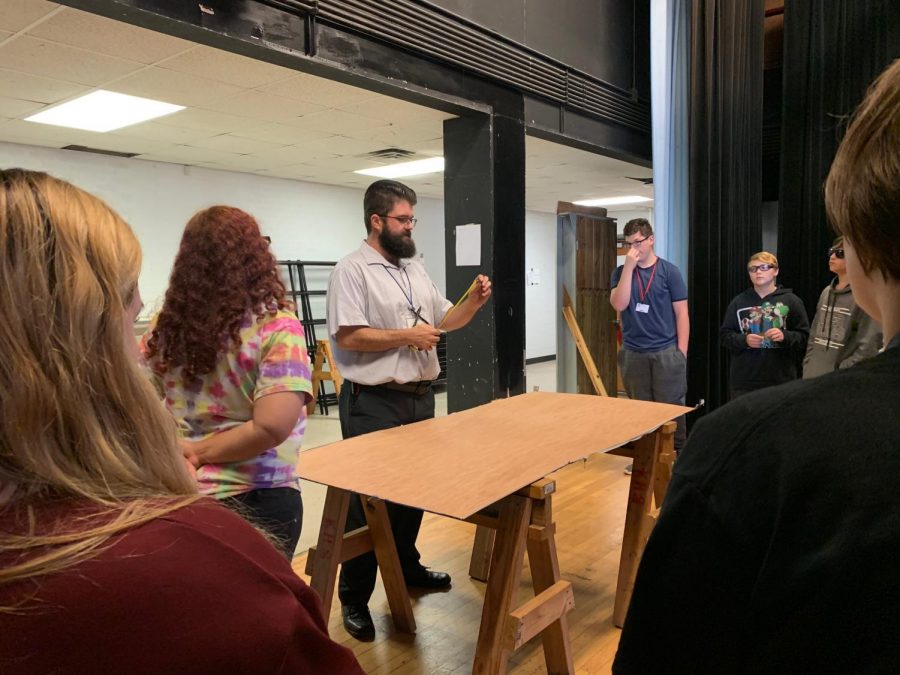 Due to changes in staff, the theater department has a new director. Phillip Nix, the choir teacher, is stepping up to run both programs.
"It certainly is a handful. I will be counting on my students to take responsibility for their own performances and pull more weight to get things done," Nix said.
Although he is new to teaching theater, Nix has a lot of theater experience.
"Along with various productions in high school, I was Fredric in Pirates of Penzance in college," Nix said. "I was in many opera workshop scenes, and I was a member/ quartet member/ juggler for TEXAS! The outdoor musical in Palo Duro Canyon."
Nix has many ideas for the year, and is already changing the program to make it his own.
"The theater program, in my mind, should be a practical program," Nix said. "Students should learn the nuts and bolts of theater production at every level in a hands-on approach."
Nix is requiring more involvement from the class, and teaching students about every step of the process of putting on a play.
"We've made so much progress in our work areas and participation levels," senior Jordan Callaway said. "His teaching style works for a fun environment, while still making sure people do their work."
Every student is playing a part in building sets and everyone is encouraged to audition.
"The changes Nix has made to the program have been slightly challenging," senior Madison Celley
said. "Only to get students out of their comfort zone and requiring them to go beyond expectations."
Students are encouraged to be more than they currently are now.
"My plans are to push my students," commented Nix. "They should feel free to open up to new experiences and techniques as well as acquire new skills."
He will start this process with Shrek The Musical.
"Shrek is a light-hearted, silly, funny musical that most students can relate to," he said. "The main characters are outcasts from society and are constantly judged by others or by themselves. In the end, they learn to love themselves and be more comfortable with the way they were created while bettering themselves in the process."
Many tried out for the musical, both freshmen and upperclassmen, who wanted to try something new.
"Casting has been the biggest challenge. There are many talented students this year who could and would do whatever they were asked," Nix said.
He has encouraged many cast members to branch out and try new roles for the upcoming production, such as junior Brooklyn Hall.
"I'm trying costume designer this year, and I'm really excited to get out of my comfort zone and try out some new things with all of the colorful characters," Hall said. "Mr. Nix offers us the opportunity to be independent and take full control of this production. I'm really glad he does because it gives us a sense of creative freedom, but at the same time it's a challenge because we're not used to having full control. In previous years we
learned to work with a vision given to us, which was always an amazing vision, but now we, the students, have to be responsible for explaining and executing our vision."
Multiple underclassmen are stepping up and trying acting for the first time. Sophomore Bryan Harter is playing his first lead role.
"I play Donkey in the upcoming musical and I am very excited," Harter said. "Not only is this a big role, but I love the fact that I get to play a character who is just as sarcastic as me. Mr. Nix is not only a great teacher but a wonderful person. He helps me figure out how to go about the role and gets me out of my bubble. He is great at figuring out just what needs to be done. I was originally unsure of this role since it's so big, and I was super nervous, but with his help in reassuring me that I can do it and his constant mentoring I believe I can get through it."
The cast looks forward to showcasing all the hard work they've put into Shrek the Musical on Dec. 7, 13, and 14 in the KHS auditorium.
"Being a part of productions has always been some of my fondest memories. This will be a blast," Nix said, "Theater is a place to become a better person. If you join to just be in the spotlight, you'll be disappointed, but if you're willing to give it your best shot and try new things, the hard work will be worth it."
Many more amazing productions and fun times are to come for the theater department.
"We've created a family that will always have your back and know your strengths and weaknesses. They lift you up. And theater family is forever," Brooklyn Hall said.