A lifetime of cheer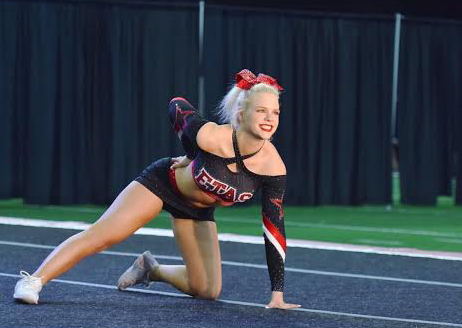 Hang on for a minute...we're trying to find some more stories you might like.
Years of high school Friday night lights, lipstick, hairspray, and spirit are coming to a close. Years of tryout stress, sore limbs, and struck poses have paid off. Years of college classes, college memories, and college games are soon to come.
Senior Gracie Clower has finished out her cheer career and the memories will last forever with her.
"I've been in cheer ever since I was little," Gracie said. "I picked up new skills very quickly and wanted to go every day!"
Gracie began her career at the young age of 3. She began in a tumbling class and later it was suggested that she begin cheer.
"My mom put me in gymnastics when I was young and I kind of took a break," Gracie said. "My friend Kourtney Ford then suggested I should tryout for this cheer team called Cheer U. I made it and continued from there."
The most important person in her cheer journey has been her coach Julie Weeks. Coach Julie has pushed her to where she is today.
"She has made me the cheerleader I am and will never give up on me," Gracie said. "She's very understanding and very encouraging but will tell you when you messed up how you could get better from it."
In all her years of stunts, practices, competition, and travel, her favorite cheer memory is from this past year.
"My favorite memory was my last cheer competition where we hit 0, which means we hit a perfect routine," Gracie said. "We had never hit a perfect routine throughout the whole season, and it was just perfect because it was my final one, and we did it."
The friends and people she has met through her variety of cheer teams have made her cheer experience possible and meaningful.
"Making friends throughout your cheer team is very important to me because you can't do without the rest of the team," Gracie said. "Coach Julie has always told me throughout my years that if one person is not on the team the team cannot work."
Gracie did both high school and competition cheer which resulted in her making plenty of friends. One of her best friends is junior Katy Edens.
"Summer going in to my sophomore year, her freshman, we were at Mrs. Gilgan's house playing 'Chopped' and that's when I knew we would be friends," Gracie said. "She is always there for me, always tells me encouraging things, and always makes me laugh. She's just an all around good person."
Parents hold their children's hands and support them in all that they do. Gracie's mom has been the perfect example of that person and role.
"No matter what my decision my mom has always supported me," Gracie said. "When I come back from a bad practice she lifts me up and has always attended my cheer competitions."
Gracie's mom drove her to four practices, a tumble class, and a private lesson every week before she could drive. She provided emotional support through all the stressful competitions and practices.
"I watched her get hurt, get back up, and try again," Gracie's mom Jennifer Clower said.  "Other mothers would often leave during those times, but Gracie loved for me to stay and watch and be there for support."
About the Contributors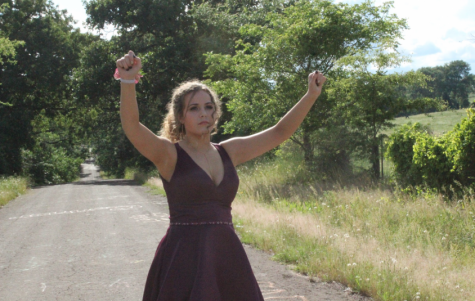 Olivia Arp, Managing Editor
Hey guys it's Olivia Arp! I'm a junior second year staffer and currently serving as the copy editor. I enjoy reading, hanging out with friends, eating...