English teachers review for STAAR
Hang on for a minute...we're trying to find some more stories you might like.
The freshman and sophomore English teachers are currently preparing students for their STAAR tests with a different kind of review. The teachers are dressing up in a different theme each day that ties into the lesson plan. The themes are a more exciting attempt to get students involved in the review. This is the first year to review in such a way, and the idea came from administration.
"We were introduced to this review style by our administration. Instead of the traditional review format, the 'Rockin' STAAR Review' incorporates fun and exciting methods, such as interactive games and websites," English teacher Amye Tucker said.
The dress-up days originally began as a one day thing, but the teachers decided to keep dressing up every day for the rest of the review. They stuck with it for three weeks in order to prepare for the test.
"The themes started when the English department was planning these three weeks of review. Because it was called 'Rockin' STAAR Review,' we thought it would be fun to kick it off with us dressing like rock stars. We had so much fun, a few of us decided to dress up for the remainder. Each day, we have a different topic to review, so we used puns to coordinate our attire," Tucker said
The English teachers believe that the dress-up days help get the students involved. It's a different approach than what's been done in the past. Although the extravagant outfits may seem silly to some, it's a great way to intrigue the class.
"Most days I have gotten a lot of eye-rolls, but I think deep down, they like that I have been dressing up and having fun themes for each day. It makes me have more fun which, in turn, makes my classes more enjoyable," English teacher Carey Murphy said.
Due to all of the review, the teachers believe their students are ready for the test. Not only have they been preparing all of the school year for this, but these extra three weeks of review have been incredibly helpful.
"My students are such a fantastic group of hard-working young people. They want to learn, and they strive everyday to do their absolute best. That plus taking 15 instructional days to review basic skills can only lead to positive results on the EOC tests," Murphy said.
Freshmen will take their English 1 STAAR test on April ninth and sophomores take their English 2 STAAR test on April eleventh.
About the Contributor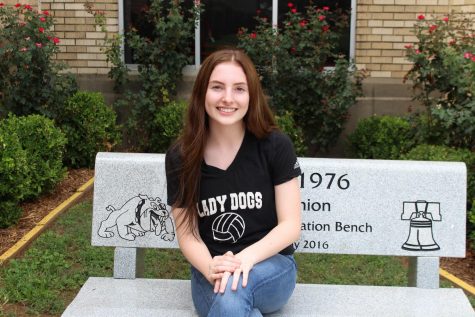 Payton Berger, Staff Writer
Payton is a sophomore and first year staffer. She was born in Dodge City, Kansas and moved here when she was five. She enjoys reading, listening to music,...